FAQ
How is Cut Above Different?
1. Taste
Cut Above was specifically created to taste just like the spirit it is replacing. Others may label the product with the name of the actual spirit, but many don't deliver on taste.
2. Experience
Unlike other products that just mimic taste, Cut Above was specifically created to give you the same sensory experience as your chosen spirit.
3. Ingredients
Compare the ingredients! Many alcohol-free or low-alc spirits use preservatives and artificial ingredients to improve the taste profile. Cut Above is truly a Cut Above, made with all natural flavors and low sugar - all products have less than 1g of sugar. Each and every ingredient has a purpose and was carefully selected.
4. Options
With Cut Above you have lots of options. You can reduce or replace the alcohol in your favorite cocktails and you decide how much. In other words, you can 'Cut' or you can 'Zero.'
5. Versatility
Cut Above is everywhere you like to be so it can be your go-to zero alcohol spirit. It's there whenever you want it, whether you're at home or out.
What does it tastes like?
What does the Gin taste like?

Cut Above Gin will rival your favorite spirited version. Made with juniper oil, cardamom, Turkish rose, Mexican lime, Californian Lemon, Italian bergamot, angelica root and orange oils, Cut Above Gin is a delight.
What does the Agave Blanco taste like?

We used several all-natural ingredients to create the best Tequila inspired agave product on the market. We blended ingredients such as: Cubeba pepper, Mexican lime oil, Italian chinotto, quassia, angelica and grapefruit extracts to create the right flavor profile for this agave blanco.
What does the Mezcal taste like?

To create this mezcal inspired zero proof spirit, we used a range of natural flavors including: Cubeba pepper extract, chipotle pepper extract, Persian lime oil and then added a touch of smoke.
What does the Whiskey taste like?

Our Whiskey was created to bring all the warmth and complexity of a great Kentucky Bourbon. We blended an inspired collection of our favorite notes of rye, grain, charred oak, and cherry. It fits right in to your favorite Bourbon forward cocktail.
Who is it for?
Is it safe to drink if I want to maintain my sobriety?

Because Cut Above is not reverse distilled but created from all natural ingredients and water, there is no alcohol in our products. We respect everyone no matter where they are at on their sobriety journey. We did create Cut Above to mimic alcoholic cocktails and the last thing we want is for our product to be a trigger. As we always say, it's your call.
Is it safe to drink if I am pregnant?

Yes. Cut Above is not an alcoholic beverage, but please consult your medical professional.
Will I get a buzz from drinking Cut Above?

No. Anything you feel from drinking Cut Above is just being high on life.
I have allergies, can I drink Cut Above?

Cut Above is free of common allergens including: milk, eggs, fish, shellfish, tree nuts, peanuts, wheat, and soybeans. Please refer to the nutrition and ingredient panel for each of our spirits.
What do you mean by It's Your Call?

It's Your Call is our way of saying we believe in choice. Sometimes you want a Classic Cocktail, other times you want a low alcohol Cut Cocktail, and at sometimes is an alcohol free Zero Cocktail. You should have the freedom to decide, and that's embedded in our company's purpose.
What do you mean by Zero, Cut, Classic?

Zero = No alcohol

Cut = Low alchohol

Classic = Full strength

Simple as that. It is our way of giving you the freedom to control the amount of alcohol in every cocktail you order or make. On our Cocktails page each cocktail has recipes for each.
What do you mean when you say Inclusive Hospitality?

Creating that feeling when you walk into a place that you were thought about before
you stepped in. That the bar team placed the same care and craft into your cocktail
whether it is a zero, cut, or classic. Warmth.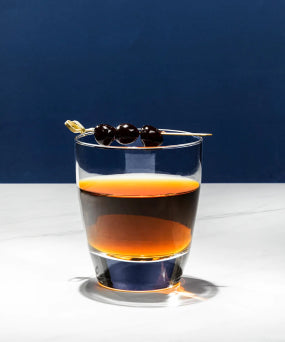 How is it made?
How is Cut Above made?

Cut Above is made from all natural flavors and water. The Cut Above team spent more than a year working with flavor specialists to create a formula that has the exact taste, mouthfeel and experience of drinking the real spirit. This formula is mixed with water, bottled and then shipped to you to enjoy.
What is the shelf life of Cut Above?

Although not required, we recommend you refrigerate after opening and consume within 12 weeks. Store in a cool place. Do not store in direct sunlight. Do not store in the freezer because it will freeze.
How do you make a spirit with no alcohol?

Some alcohol-free spirits are made by distilling grains and botanicals and then removing the alcohol. Others are made by steeping botanicals and herbs in water. Cut Above is made by Distillate Replication. That means we start with meticulously sourced ingredients and then replicate reactions that normally occur in distillation.
Why do some "alcohol-free" beverages still have alcohol in them?

If the product was originally fermented and distilled, it is not possible to remove 100% of the alcohol. Most distilled beverages labelled alcohol free, still have 0.5% or less ABV (alcohol by volume). Some fruits, juices, and breads also contain naturally occurring alcohol like ripe bananas (0.4%) and kombucha (0.5%).
Where is Cut Above made?

Cut Above is made and bottled in Houston, Texas.
What is in it & what is not?
What are the ingredients in Cut Above?

Each Cut Above Zero Proof Spirit contains a proprietary blend of natural flavors that give each of our spirits their amazing tastes. For detailed information, refer to the spirits nutrition and ingredients information on the back of each product.
Is Cut Above all natural?

Yes. Cut Above Zero Proof Spirits are made with natural ingredients.
Is Cut Above sugar free?

Cut Above Zero Proof Spirits have a small amount of natural sugar only to aid in the bonding of our ingredients.

Is Cut Above gluten free?

Cut Above Zero Proof Gin, Mezcal, and Agave Blanco are gluten free.
Does Cut Above have any calories?

Cut Above Zero Proof Gin has zero calories. Our Agave Blanco and Mezcal contain only 5 calories per serving.
Wait, I get a warming / burning sensation with Cut Above, are you sure there is no alcohol?

Cut Above Zero Proof Spirits contain no alcohol. We set out to create a non-alcoholic spirit that not only tastes like the actual spirit but creates the sensory experience of drinking that spirit. Each ingredient was carefully selected to achieve that goal, including the feeling in your mouth and the warming sensation in your throat.
Why is Cut Above slightly cloudy?

Cut Above Spirits may be slightly cloudy because, like classic spirits, we use natural ingredients like Juniper and Oak. These natural ingredients do not dissolve as well in water as they do in alcohol resulting in a slightly opaque liquid.
What's the best way to enjoy Cut Above?
How do I mix a cocktail with Cut Above?

Use the Cut Above Zero Proof Spirits to replace the desired amount of alcohol-containing spirits the recipe calls for. This can be all the alcohol or a percentage. For instance, want a Negroni with half the alcohol? If the recipe calls for 1 oz of Gin, use 0.5 oz of your regular Gin and a 0.5 oz of Cut Above Zero Proof Gin.
What do you mean when you say a "Cut Old Fashioned"?

In a Cut Old Fashioned a percentage of the bourbon is reduced and replaced with Cut Above Zero Proof Whiskey. The exact percentage is up to you.
How do I store Cut Above?

Before it is opened, store Cut Above Zero Proof Spirits along with your other spirits for 36 months. Once opened, although not required, we recommend that you refrigerate Cut Above to maintain proper flavor balance. Store in a cool place for up to 6 months after opening. Do not store in direct sunlight, please do not freeze.
Where can I find Cut Above?
Where can I buy Cut Above?

You can conveniently purchase Cut Above Zero Proof Spirits online at drinkcutabove.com.

Our location list is expanding. Here is a map of where we are available.
What bars and restaurants serve Cut Above?

Our distribution is expanding. If you have a favorite restaurant or bar that you would like to carry Cut Above please let us know and we'll try to make it happen!

The best way to know about new bars and restaurants that carry Cut Above is to sign up for our newsletter.

Here is a map of where Cut Above is available.
I'm interested in carrying Cut Above in my bar or store? How do I get samples?
Can I return it if I change my mind?

Yes. Just return the unopened bottle within 14 days of receipt and we will issue a refund to the original payment source.
The bottle arrived broken, now what?

Just send us an email with a picture of the damaged goods within 7 days of receipt and we will issue a replacement or refund to the original payment source.